Chores are a mechanic that is used for Daddy. They are tasks/chores that Daddy have to do around the house and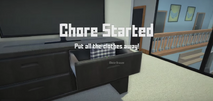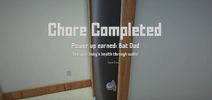 outside the house, completing a chore earns him a power-up to help him baby-proof the house more easier. Chores could be like cleaning dishes or putting toys away. A text pops up "Chore Started" when you start a chore and will also pop up saying "Chore Completed" after finishing a chore or task and you will begin to earn a new power-up or achievement.
List of Chores
Edit
A complete list so far of what chores Daddy can do.
Clean up Baby's toys and put them in the toy box
Change or replace a Smoke Detector's battery
Clean the Baby
Cook food above Stove (can only earn you the "Master Cook" powerup)
Put clothes away in the draws
Duke that Pill! (microwave the pills) (can only earn you the "Breaking Dad" powerup)
The Cooking Chore will only earn you the "Master Cook" which is also the only chore to earn this specific power-up
The "Duke that Pill!" will only earn you the "Breaking Dad" which is also the only chore to earn this specific power-up