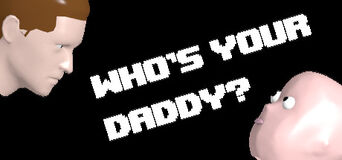 Welcome to the Wiki
Edit
Who's your Daddy Wiki is a fan enyclopedia made with Wikia that will have almost everything about the game and it's features, characters, and designs.
About the game
Edit
Who's Your Daddy is a casual 1 on 1 video game featuring a clueless father attempting to prevent his infant son from certain death.
More about the game?
http://whosyourdaddygame.wikia.com/wiki/Who%27s_your_Daddy%3F_(Game)
Recent Update (V.1.2.0 Beta)
Edit
(This will be changed every time a Who's your Daddy update comes out weekly).
Daddy can now crawl! This was added to address the issue of babies hiding under objects daddies could not previously reach. It is defaulted to "Z" (You may be required to set this manually) 
Fixed an issue where you lost your cursor after spectating in Family Gathering 

Lobbies now use your Steam name by default. This can be reverted within the "Gameplay" settings menu 

Mouse sensitivity can no longer be set to absolute zero